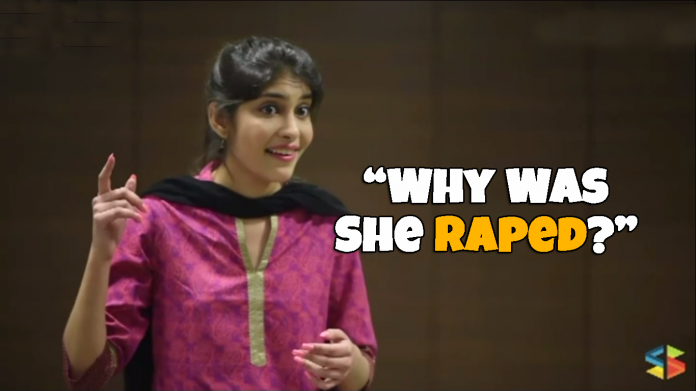 Sukriti Chotani, a contestant of Campus Princess 2016 performed this act at one of the events of the show. She has talked about the most sensitive yet the most discussed issue – 'Rape'. Sukriti talks about Damini – the victim of the brutal December 2012 Delhi rape case. She raises questions that have not been addressed yet, "Why was she raped?" Just because she was with a male friend or just because she was a girl? The questions raised by her dumbfounded the audience, leaving them searching for answers.
She talks about Damini as a girl like every other person who wanted to achieve her dreams and make her parents proud. But after an inhumane attack she was left just to die. She was a fighter but couldn't survive. She had the courage to fight the world but circumstances lead her to nothing but die. An inhumane act of rape devastated her life and ruined every part of her. Sukriti raises the women equality issue. She rightfully asks, What is the problem if a girl wears short dresses or if she's with a male friend?
With so many questions asked and sensitivity sensible issues raised, we still have no answer. The question stays unattended. The stereotypical society doesn't seem to change. Sukriti, with her stupendous act has made an incredible attempt to make this society give a second thought. Watch here.
Have a news story, an interesting write-up or simply a suggestion? Write to us at [email protected]