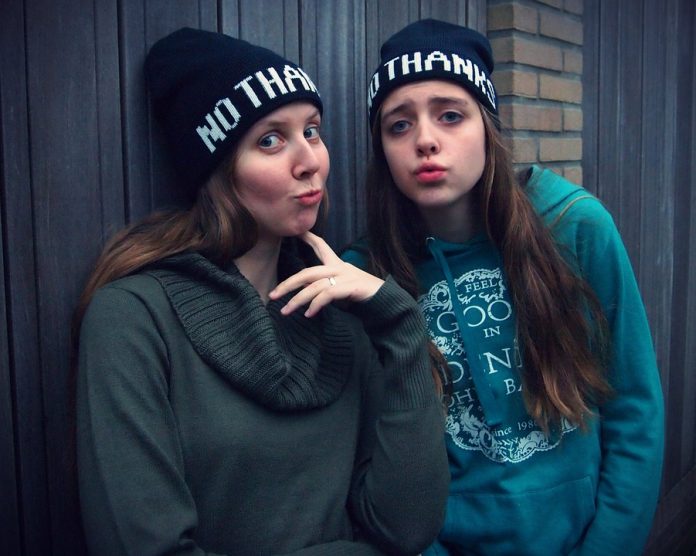 Having a sister myself, I can boastfully say that I'm almost an authority on everything to do with sisters, right from the psychological manipulation to sharing schedule of clothes, I got it all! Before getting too sentimental while walking down the memory lane, here's something you'll surely agree with – "Having a sister is not an easy walkover, it requires a great deal, especially when you don't have a huge age gap, but one thing is absolutely true – "Sisters are the best Friends".
This one is to recall all those innocuous and witty memories spent with your doting sisters that you will totally relate to:
1. You are never short of clothes, shoes, make up, or anything for that matter. To confess, I have undeniably 'borrowed' enough clothes and footwear from my elder sister. Perhaps, this is why people keep asking me, 'How do you manage to wear different clothes almost each day'. Shhh! It's a Secret!
2. You have achieved a level of understanding where you simply exchange looks and understand each other. Especially when you share hatred for someone, and you come across the same person, the only source of communication is 'constant looks'.
Also Read: 5 Biggest Mistakes Couples Make In A Relationship
3. Most of the people are not able to comprehend your jokes. Neither are they able to match your comic timing. After all, it takes time and efforts to adapt to the code language. Huh!
4. She is the apt example of your 'partner in every crime'. Right from the planning evil against your neighbor or the vengeance you planned against your ex, she had got your back!
5. Gossiping is the favorite time pass. "That girl in green top and brown jeans, what is she thinking she is? A tree? No sense of fashion!"
6. Almost half of the population calls you by the name of your sister and yet expects you to recognize them at once. Relatives dude!
Also Read: 7 Reasons Why You Should Date Your Guy Best Friend
7. You have a typically favorite song which the moment is played, makes you perform the same steps. Synchronization dance steps which even Terrance cannot point out to.
8. Only you can say the meanest things to her, but dare anybody else raise a voice against her. They go to face You.
9. The elder one till date makes up stories how the younger was adopted or brought home from the nearest 'mandir'. In fact, my sister says they brought me from the society's bin. Mandir sounds still better!
Also Read: 7 Things Every Girl Wants To Hear From Him
10. She is the one who introduced you to the epic 'Break The Rules' policy. Being the elder sister, she had more experience with parents than you, and hence  she taught you exactly what you needed to do in order to get away with doing what you wanted.
11. And also, covered for you when you needed her to. After all, the whole 'Break the Rule' could not have worked, if she hadn't covered for you. You see that's how things work.
12. She gave you advice for dealing with your enemies. Or sometimes she did the needful out rightly. And her advice was often enough to get the harassers to leave you alone.
Also Read: 7 Things To Know Before You Move In With Your Boyfriend
13. Her never ending advice on dating. Whether it is a question of what to wear on a date or whether or not you should dump a guy, she always managed to share valuable insight.
14. You rather spend time with her doing absolutely nothing than doing anything else with anybody in the world. Because she is not just your sister but your best friend!
15. She is your constant support and source of energy. She is that one person you go to when you want to share your deepest secrets and mysterious confessions, because you know she will give you the best advice.
Also Read: 7 Relationship Red Flags You Need To Talk To Him About
Raise your hand, if you too have a sister! And tag her in comments to let her know how much you love her.